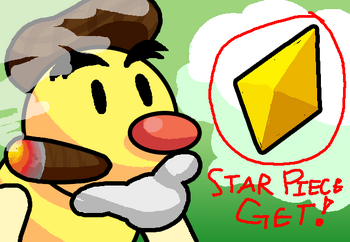 A staple of the Paper Mario series, these are found in panels and then traded to Leps the wriggler for 50 credits each.
Current locations the star pieces were found
Edit
The start menu where the pieces are totaled.
The introduction of star pieces, in Leps' imagination bubble.
In the background of one of Detective Snifs' interviews.
Ad blocker interference detected!
Wikia is a free-to-use site that makes money from advertising. We have a modified experience for viewers using ad blockers

Wikia is not accessible if you've made further modifications. Remove the custom ad blocker rule(s) and the page will load as expected.