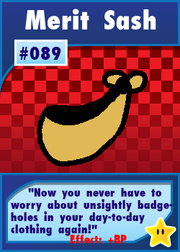 "Now you never have to worry about unsightly badge-holes in your day-to-day clothing again!"
Merit Sash is a fan-item made by MSPA user Todd Ingram. It is item number #089, and its cost is 350 credits. It is in the rarity category of 'Star'. It is based off of the merit sash that Boy and Girl Scouts wear to display their merit badges.
An unaltered Merit Sash increases the wearer's max Badge Points by 5. Humor Crafting effects for this item include but are not limited to:
Vision: If the character is wearing more than one type of the same attack badge, and the badge allows the power of the attack to be increased when wearing two or more of the badge at the cost of more FP, the FP cost remains the same while the power bonus is still applied. This effect breaks when the character wears more than three of the same badge.
Logos: Any badge that costs between 3 and 5 Badge Points to equip has its cost lowered by 1 BP, and any badge that costs 6 or more BP to equip has its cost lowered by 2 BP.
Relief: Badges cannot be stolen in-battle by Badge Bandits or any other enemy that can steal badges.
Appearances
Edit
As a fan item, the Merit Sash has yet to make an appearance.
Ad blocker interference detected!
Wikia is a free-to-use site that makes money from advertising. We have a modified experience for viewers using ad blockers

Wikia is not accessible if you've made further modifications. Remove the custom ad blocker rule(s) and the page will load as expected.