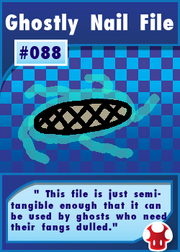 "This file is just semi-tangible enough that it can be used by ghosts who need their fangs dulled."
Ghostly Nail File is a fan-item made by MSPA user Todd Ingram. It is item number #088, and its cost is 48 credits. It is in the rarity category of 'Mushroom'. Due to it's semi-tangible nature, it can only be used by ghosts, such as Boos or Eeries.
An unaltered Ghostly Nail File posesses no special effects.. Humor Crafting effects for this item include but are not limited to:
Shine: All physical attacks do 1 extra damage.
Relief: Stylish moves provide slightly more star power.
ANY S RANK HUMOR: The character's base attack (the one that costs no FP) ignores the defense of the opponent when attacking.
Appearances
Edit
As a fan item, the Ghoslty Nail File has yet to make an appearance.  
Ad blocker interference detected!
Wikia is a free-to-use site that makes money from advertising. We have a modified experience for viewers using ad blockers

Wikia is not accessible if you've made further modifications. Remove the custom ad blocker rule(s) and the page will load as expected.