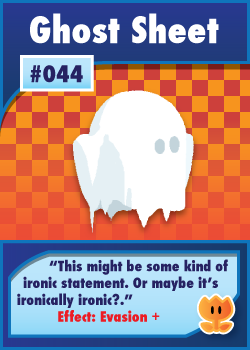 "This might be some kind of ironic statement. Or maybe it's ironically ironic? You know what, we're just walking into a hall of mirrors with this line of thought—either buy it or don't." - captiousCreative
TheGhost Sheet is item #000, and is purchasable in captiousCreative's shop, Tune Me Up.  It's cost is 175 Credits.
The Ghost Sheet is listed as having the effect of raising evasion, though its effectiveness has yet to be seen.
Appearances
Edit
• The Ghost Sheet was listed in the shop's inventory on the first trip to Tune Me Up.
Ad blocker interference detected!
Wikia is a free-to-use site that makes money from advertising. We have a modified experience for viewers using ad blockers

Wikia is not accessible if you've made further modifications. Remove the custom ad blocker rule(s) and the page will load as expected.