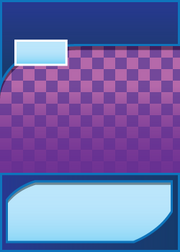 "[quote from flavor text of card]."
[item name] is a fan-item made by MSPA user [your name]. It is item number ###, and its cost is ### credits. It is in the rarity category of '[Mushroom-Flower-Star, choose one]'. [You can add other tidbits here, like if it's based off of something, or any other description you feel needs to be added.]
The effects of an unaltered [your item] are [list effects, if any]. Humor Crafting effects for this item include but are not limited to:
[Humor 1]: [Effect that humor gives to the item]
[Humor 2]: [Effect that humor gives to the item]
etc.
Appearances
Edit
• [if your item has made any appearances in canon or in a fanventure, detail them here]
Ad blocker interference detected!
Wikia is a free-to-use site that makes money from advertising. We have a modified experience for viewers using ad blockers

Wikia is not accessible if you've made further modifications. Remove the custom ad blocker rule(s) and the page will load as expected.