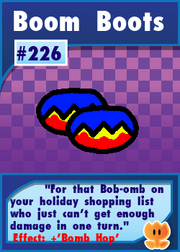 "For that Bob-Omb on your holiday shopping list who just can't get enough damage in one turn."
Boom Boots is a fan-item made by MSPA user Todd Ingram. It is item number #226, and its cost is 108 credits. It is in the rarity category of 'Flower. While they fit a number of different feet, the effect they impart only works for Bob-Ombs.
An unaltered pair of Boom Boots gives a Bob-omb an extra effect to their base 'explosion' attack, called 'Bomb Hop' After blowing up, instead of falling back to their place in the battlefield, they will land on the blown-up opponent and do a small amount of jump damage. Humor Crafting effects for this item include but are not limited to:
Mend: The 'Bomb Hop' can hit all non-ceiling enemies with a succesful action command, like Multibounce.
Ardent:'Bomb Hop' can hit spiked or fiery enemies without the wearer taking damage.
Sanguine: The wearer's base attack is raised by 1.
Appearances
Edit
As a fan item, the Boom Boots have yet to make an appearance.
Ad blocker interference detected!
Wikia is a free-to-use site that makes money from advertising. We have a modified experience for viewers using ad blockers

Wikia is not accessible if you've made further modifications. Remove the custom ad blocker rule(s) and the page will load as expected.